From sweating it out at your desk during the day to tossing and turning at night, feeling too hot is never pleasant. But the good news is, saving energy and staying cool at the same time is possible.

Here are a few ways to do both.
Fans are your friend
Air conditioners are a blessing, but there are other ways to stay cool. Ceiling fans are a great option to complement your air conditioning. A typical high-efficiency central air conditioning unit uses approximately 3,500 watts of power, on average, when it's in use. A ceiling fan on the other hand, uses approximately 50 watts.

While you may still need air conditioning throughout your home, using a ceiling fan can help you feel cooler in the rooms where you're spending longer periods of time, like a home office or a bedroom. With ceiling fans keeping you cool, you can raise the temperature of your AC, keeping it from kicking on as often and saving energy.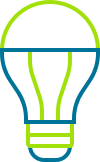 Tip
Working from home more? Try setting up your workspace in a cooler area of your home and use fans so you can set your AC to a higher temperature.
When shopping for ceiling fans, look for models that are ENERGY STAR certified. They'll have better motor and blade design and will use 60 per cent less energy than standard models. As a bonus, ENERGY STAR-certified ceiling fans allow you to reverse the airflow direction, so you can use them during colder months too. Simply switching the direction the blades turn may help reduce your heating needs.

Whatever the season, be sure to switch off the fan, or at least lower the speed, when you're not in the room to save even more energy.