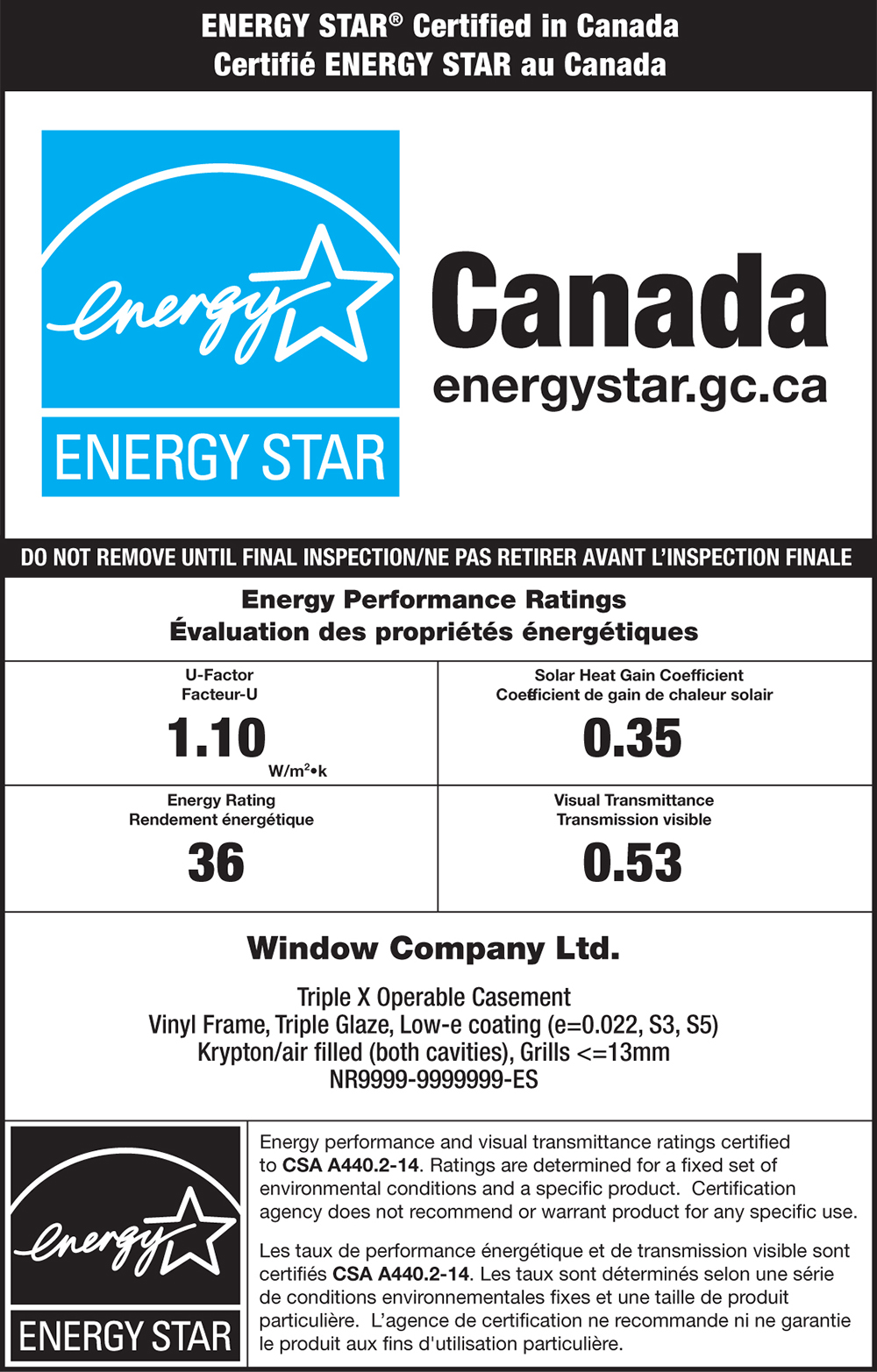 How to decide? Compare the labels
With so many types of ENERGY STAR® windows on the market, you'll want to look at window labels with your priorities in mind. They will tell you everything you need to know about the product and how it will perform.
Here are three key characteristics to look out for:
1. Certified performance ratings
Window performance is measured in two ways: U-factor and Energy Rating (ER). The U-factor shows the rate of heat transfer. A low U-factor means that the product insulates well, so you'll want to look for this if thermal performance is a priority. This may be particularly important for the coldest rooms of your home, such as windows and doors facing North or East; however, all orientations benefit from low U-factor windows and doors in order to minimize a home's overall heat loss. In Canada, it is recommended to aim for a U-factor of 1.4 W/m2K or lower for windows and doors. ER is an alternative rating, and it includes the solar gain effect of the window. The higher the ER, the more energy efficient the window. Good performing windows and doors have an ER of 29 or higher. High ER windows are particularly useful in North and East orientations to amplify sunshine exposure in these orientations, and low to mid ER products are recommended for sunny exposures such as South and West orientations. To be ENERGY STAR certified, windows and doors must have a maximum U-factor of 1.22 W/m2K or a minimum ER of 34.
2. Description
The description will have information including type, material and glazing. In this section, you'll want to note whether the window is fixed, meaning it doesn't open, or operable, meaning the window does open. There are several types of operable windows, and this will be indicated on the label.

You'll also want to look at the glazing type which affects energy efficiency and the amount of light that the window lets through. Look for a double or triple glazed window with a low-e glass coating which will help maintain your home's temperature and reduce energy costs over time. It can also help with noise reduction. Pair a low-e glass coating with an argon gas fill to enhance thermal performance. If you want more natural light, consider a clear glaze rather than a tinted glaze. Your window provider can help you determine which glaze is right for you.
3. Certification
All ENERGY STAR® windows are certified by the Canadian Standards Association based on energy performance. Windows are tested and verified by an independent third party to ensure that the product will perform properly.