Pick the features that make sense for you
At a basic level, all smart thermostats "learn" from your habits and then automatically adjust your home's temperature accordingly. Specifically, they automate adjustments to your heating or cooling based on your schedule, preferences and location, including through "away" modes that conserve energy when you're not at home. How each model goes about doing this can differ. Here are a few features and technologies you may see described when reviewing various models.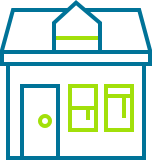 App controls and alerts
Every smart thermostat model will have an accompanying mobile app. You can often use these apps to control the thermostat settings remotely. You may also be able to get alerts, such as furnace maintenance reminders or when there is a sudden change in temperature. Many smart thermostat models offer insight reports so you can better understand how you're using energy and how to save it.
Geofencing
Some smart thermostats use geofencing technology to help you conserve energy. Based on the location data from your smartphone, the thermostat will adjust your temperature when you're away from home or close to returning. However, if you largely work from home and have a relatively predictable schedule, this may not be the most useful feature for you. Other models may rely on proximity sensors to gauge whether you're at home and adjust the temperature accordingly.
Remote temperature sensors
Many smart thermostat models are compatible with remote room sensors to monitor and better regulate your home's temperature, which may help you save energy and stay more comfortable. Some models include these with your thermostat purchase, but if not, you will have to purchase them separately. These sensors are especially useful for older homes that may have inconsistent airflow (with some areas of the home getting more or less heating and cooling) and for homes with thermostats that aren't ideally placed for temperature readings.

You can start by placing a temperature sensor in your coldest room and one in the warmest room to average your home's temperature. From there, you can set up as many sensors as you want. The smart thermostat will use the temperature readings from the sensors in each room, instead of the spot where the thermostat itself is placed, then adjust the heating and cooling accordingly, which may help you feel more comfortable.