Frank Marasco wasn't always a hairstylist. Back in his native Italy, the owner of A Touch of Class laid brick for a living, building structures by the light of the sun. He's the kind of business owner who loves to learn.
When he arrived in Canada in the early 1960s, he briefly worked in cement finishing. He then forged a new path in hairstyling, creating a name for himself in Sudbury and around the world.
Marasco and his team always strive to make their customers feel like a million bucks, while keeping their operating costs down. But, with important lighting and electrical needs, energy consumption tops his list of monthly expenses.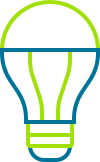 Many of our customers are surprised by the impact a dim business environment can have on both their bottom lines and the customer experience. Once they changed their lights they found that they had a brighter, more comfortable environment that also eased stress on their pocketbooks.
The right lighting can save money
In 2015, Marasco contacted Greater Sudbury Hydro to apply for Save on Energy's Small Business Lighting program. "We have a lot of lights in the shop because we do a lot of work with hair colour. They recommended we change our lights to LED," says Marasco. Turns out how hair is lit makes a big difference in how stylists make colour decisions. It influences how the customer sees the finished look too. LED lighting changed everything.
In addition to saving Marasco money on his hydro, the longer-lasting bulbs don't need to be replaced as often.
The total cost of replacing the lighting in the salon with energy-efficient LED fixtures was $2,700. Through Save on Energy, Marasco received $1,500 in incentives, dramatically reducing his up-front costs.
The investment in LED fixtures more than paid for itself within a year, with A Touch of Class trimming $1,300 off its annual energy bill.
Above all, the owner is enjoying the reaction both customers and stylists are having to the change. Everyone is excited about how hair colour looks in the warmer, more natural light from the new bulbs.
"With the old lights, sometimes the colours would seem too yellow," he says. "To do hair colour properly, you need natural light to see the original colour. With the LED lights, the colours appear natural. Customers have noticed the change and they are very happy."