Smart bulbs
Smart bulbs have a large range of benefits, including dimming and helping you sleep better. Like smart plugs and switches, smart bulbs let you adjust lighting in your home remotely, as well as set schedules and timers for lights.

Smart bulbs use LEDs, which last at least 15 times longer than traditional incandescent bulbs and use about 70 – 90 per cent less energy. Additionally, a key feature of some brands' smart bulbs is the LED colour types they employ, which can be used to set the mood for any occasion, including parties and holiday gatherings.

If you're looking to automate lighting to fit your lifestyle, you can also program the colour of lights beside your bed to put you to sleep and wake you up. To get in the game, simply replace traditional light bulbs with smart bulbs, which screw into existing sockets in your home.

If you only want a handful of smart bulbs in your home, consider getting ones that connect directly to your Wi-Fi network. If you're managing more lights, a hub-based smart light system may be better.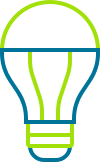 Tip
Don't forget to think about the technology that is already part of your daily routine. Ensure that tablets, phones and smart thermostats you use are compatible.
Smart lighting is a great place to start creating a smart home. It can help you save energy, increase your comfort, feel more secure and give you peace of mind when you're away.